Toca Life Vacation Gameplay on iOS and Android device – let the kids decide as director to make up their own stories for each character ! explore storage island, sightseeing in village, hotel, each airport where you can fly on an airplane, stay at a hotel, play on the beach, have fun adventures in the hotel, jump on bed, ride the elevator, have fun on the boardwalk, shop for souvenirs, explore the island mysteries !
Check in at the airpor, x-ray your luggage, be a pilot !
.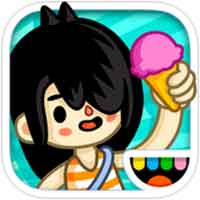 Toca Life: Vacation game by Toca Boca AB that you can play on android, amazon kindle, ios devices iphone and ipad.
Get ready for a shining sun and good times with the fourth app in the Toca Life series, Toca Life: Vacation. As with the previous apps, Toca Life: Vacation puts kids in the director's seat to make up their own stories. There are no rules or scripted scenarios; it's all up to your kid to decide what happens to the inhabitants of Toca Life.
Toca Life Vacation Gameplay Walkthrough Video :

Make every day a vacation adventure! Feel the excitement of going through the airport to catch your flight. Jumping on a hotel bed. Digging for treasure on the beach. Create all the vacation fun you want with Toca Life: Vacation!
EXPLORE
With four locations to explore in Toca Life: Vacation, you'll never run out of ideas for your stories. Want to start your adventure at the airport? Have fun with the X-ray machine, board the plane and visit the cockpit. Then get a snack and enjoy your flight! At your destination, you have many choices for activities: shopping and sightseeing on the boardwalk, playing at the beach and surfing in the ocean and exploring the hotel.
DISCOVER
You'll find lots of surprises throughout Toca Life: Vacation. Find out who inhabits the seafloor, open a secret compartment, uncover buried treasures and investigate a very mysterious-looking statue.
RECORD YOUR STORY
Use the in-app recording feature to create an original video! This feature records your voice as you're telling the story, along with your characters' movements. Create vacation videos up two minutes long and save them to your camera roll to share later!
GET THE INSIDE SCOOP
Don't miss Life Weekly! This is your source for hilarious videos, insider tips and awesome fan art. Located in the top right corner of the start screen, this free feature updates every week to give you fun insights into the whole world of Toca Life!
FEATURES
– Explore four locations: airport, hotel, beach and sightseeing.
– Create stories for 34 new characters.
– X-ray luggage or people at the airport! Visit the cockpit and have a snack on the plane.
– Fill up at the hotel buffet or raid the fridge in your hotel room.
– Play on the hotel elevator then ride up to the top floor to enjoy the view from your penthouse suite.
– Shop for souvenirs in the gift shop, take photos in the cut-out figures and have a snack on the boardwalk.
– Play on the beach and surf above the ocean animals.
– Discover the island mysteries!
– Record your stories in the app and share with your friends!
– No time limit or high scores — play for as long as you like!
– No third-party advertising
– No in-app purchases