Disc of Turin Reverse 1999 Guide for Thief of The Thieves Guide Reverse: 1999 Event Exhibit Item : Disc of Turin !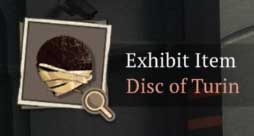 You need to pick the right decision to get the A rank so you don't need to redo this everytime you choose the wrong option =) Stay alert, Melania. Ramirez is at risk now, and we must value every order. Here are the answers :
Day 1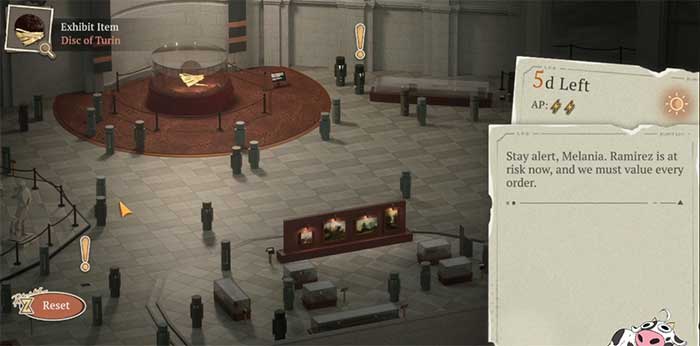 Daily Affair
A man who claims to be a friend of your father's enters the security room with tea and cookies, hoping to catch up with you.
– Drive him away
A bad lie. Your father has no friends. You have avoided a scandal.
"Derek's Gang" has sent a warning letter of their theft. No matter it's a prank or not, to complete this hard-earned order, please collect relevant information and take it seriously.
[Rating +5]
Daily Affair
An old guard who has worked for your father for many years claims there's a huge malfunction in the CCTV.
"I told you, Melania, those new gizmos don't work!"
– Check it yourself
You reach the monitor room to find the "malfunction" is only a loose plug.
[Rating +5]
Day 2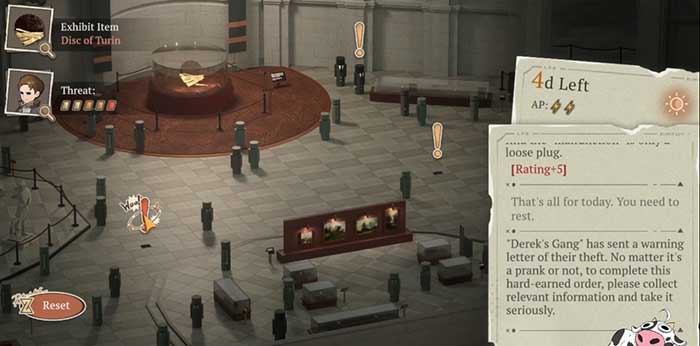 Emergency
"Hey! I'm sure your men called me here!"
A raging plumber storms into the monitor room, yet none of the guards admits calling him.
– Mediate the dispute
"Watch your number next time!" The plumber storms out of the room.
[Rating +10]
Daily Affair
Oh no, there are too many visitors in this hall.
– Handle Later
Daily Affair
A famous collector visits the hall. He asks you to open the glass case for him to watch the exhibit closely.
– Refuse his request
You turn him down politely, despite how famous he is, yet the man highly praises you for your professionality. "It's just a test."
Now he no longer doubts the professionality of Ramirez. You will have more orders.
[Rating +5]
Day 3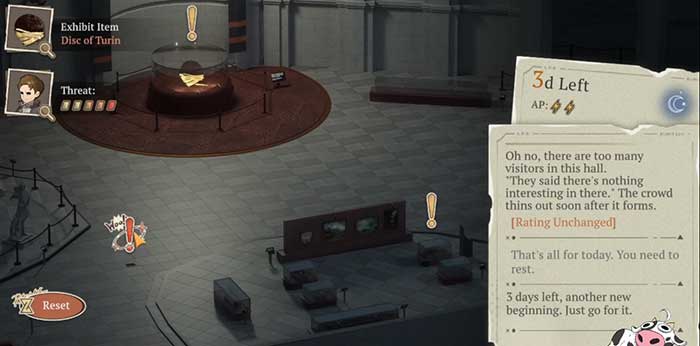 Emergency
You have received the first payment. Now you can "upgrade" the security system a little bit.
– More arcane props
Glory to Ramirez. You father would fancy this choice.
[Rating +10]
Daily Affair
A guard reports in panic that he sees spirits floating around the exhibit.
– Handle Later
Daily Affair
An unexpected thief visiting : there are rats in the hall !
– Drive them away
Your staff have spent all their energy driving these fluffy little things away. Hopefully they won't go astray again.
[Rating +5]
Day 4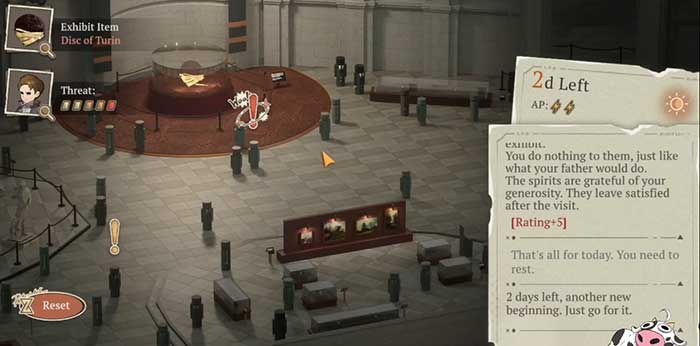 Emergency
Two drunkards have a fight in the exhibition hall. Perhaps they just lost the beer money in the game.
– Calm them down with force
The police take them away. I think we need a breathalyzer.
[Rating +5]
Daily Affair
A sneaky man is wandering around the hall. He hopes to make a deal with you.
"I know every thief in London … I can help you catch them, as long as the price is good."
– Test him
You ask the man to prove himself. "Watch out for the woman who takes picture." The man leaves after giving a piece of advice.
[Rating +5]
Day 5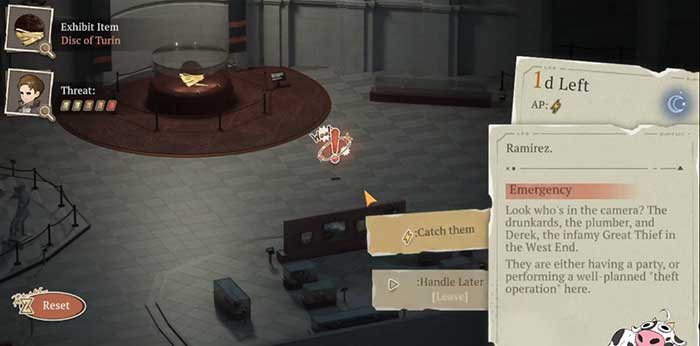 Emergency
Look who's in the camera? The drunkards, the plumber, and Derek, the infamy Great Thief in the West End.
They are either having a party, or performing a well-planned "thef operation" here.
– Catch them
Quite an adventure, but the Disc of Turin is safe now.
[Rating +10]
You will get 100/100 A score !